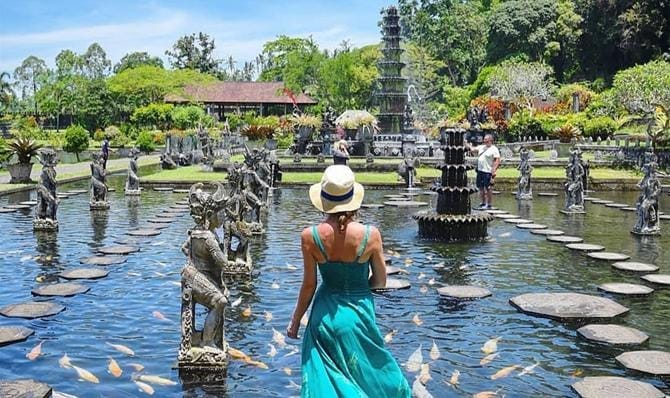 Things to See and Do When Visiting Bali
Bali is Indonesia's main tourist destination, which has seen a significant rise in tourists since the 1980s. Tourism-related business makes up 80% of city's economy. It is renowned for its highly developed arts, including traditional and modern dance, sculpture, painting, leather, metalworking, and music. In March 2017, a survey named Bali as the world's top destination in its Traveller's Choice award.
Vietnam Allure Travel named  some places to see when you are in Bali
1. Tanah Lot Temple
Ticket Price : Domestic Child = Rp. 15.000, Domestic Adult = Rp. 20.000, Foreign Child = Rp. 30.000, Foreign Adult = Rp. 60.000
Tanah Lot Temple is one of Bali's most important landmarks, famed for its unique offshore setting and sunset backdrops. An ancient Hindu shrine perched on top of an outcrop amidst constantly crashing waves.
Tanah Lot means Land in The Sea, a perfectly fit name for its unique offshore settings. The silhouette of Pura Tanah Lot is one of the most popular iconic features of Bali.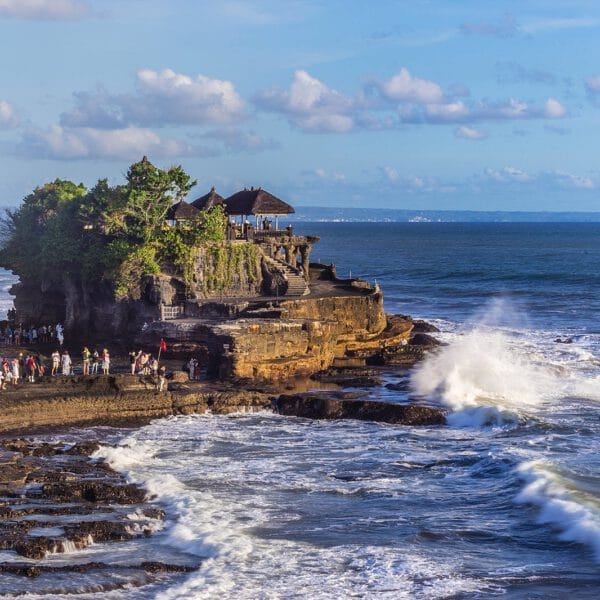 Get There
Tanah Lot is located around 30 km away from Ngurah Rai Airport in Denpasar. Coming from Denpasar on the main highway and arriving in the town of Kediri, you will certainly not miss the large sign at the main intersection announcing the southwest turn to Pura Tanah Lot. To reach the temple of Tanah Lot you will need to cross some dry land then climb a hill to reach the site of the temple.
Get Around
Inside the temple area, you can just walk around and explore its photogenic surroundings. Although famous for its sunset view, you may also want to try coming at really early in the morning, so that there will be less crowd and higher chance to have a serene image of the temple. There are also several temples that you can visit around Tanah Lot. They are Pura Pekendungan, Pura Batu Bolong, Pura Jero Kandang, Pura Enjung Galuh, and Pura Batu Mejan.
These temples have a variety of legends and myths surrounding their historical roots. When Nirartha left Beraban village, he bestows a special keris -a blade like a traditional weapon- to the Beraban leaders. The Ki Batu Gajah keris was said to possess the ability to repel plant diseases from crops. This keris was kept in Pura Pekendungan, before it is now safely stored in Puri Kediri. But on Odalan day, Ki Batu Gajah keris is always involved in the ceremonies.
Pura Batu Bolong is another extraordinary sea temples build upon a jutting rock cliff. Batu Bolong means "hollowed stone", depicted from its obvious characteristic. It is said to be the twin of Tanah Lot, with many similar features between the two.
Located in Canggu, Batu Bolong sea temple is the cradle of the holy spring water. Many important Balinese rituals and ceremonies are held on this stunning location. Pura Jero Kandang in Tabanan is a temple devoted to seeking wellness and protection for livestock and agricultural crops. Pura Enjung Galuh is a temple renowned for a place to worship the Goddess Sri. Here, devotees pray for welfare and prosperity. Pura Batu Mejan is the location of Tirta Penglukatan, a holy spring believes to have to purify bliss against all negativity.
2. Uluwatu Temple
entrance fee of IDR 15,000 for domestic tourists and IDR 30,000 for foreigners.
Uluwatu Temple locally known as Pura Luhur Uluwatu (with Luhur meaning "something of divine origin"). This is one of Bali's nine key directional temples and one of the most spectacular ones in the entire island, perched on top of a steep cliff approximately 70 metres above sea level.
Opening time daily from 09.00 AM to 07.00 PM, and for worship purpose it is open for 24 hours daily.
Generally all time is a good time to visit Uluwatu Temple though you may find some rain in the evening during rainy season.
Come between March to September for the best chance of a clear sunset over Uluwatu.
Dress Code
As we know when you visit of any temples in Bali, both men and women should wear a sarong, scarf or sash tied around the waist.
Sarong and sash is provided in Uluwatu Temple, and you can use that for free, as long as you visit the temple.
Oher conduct tips to follow are:
Don't take photos directly in front of worshippers.
Don't Step Over or Tread on Offerings – Small offerings called canang sari are often left on the ground. Palm leaves are woven into a small box and flower petals herbs, money, snacks are inside. These offerings are to appease the spirits. Be careful where you're walking.
As long as you remember that the temple you are in is a space of reverence to the Balinese people, and treat it as such, your temple visit is sure to bring you the happiness and enlightenment you seek.
Uluwatu Kecak Dance
One attraction not to miss in Uluwatu Temple is the traditional Balinese dance call Kecak dance which is scheduled after the sunset.
These performances are obviously for tourist benefit only, and are not spiritually significant to the temple.
However, they are an interesting way to get a glimpse into Balinese performance art, and the setting is stunning.
The Kecak dance show is held at the open stage of Uluwatu Temple. The show starts at 6 PM and concludes shortly after sunset.
The troupe of around 75 male dancers descend onto the stage with extended arms and shaking hands up in the air while chanting their fast-paced, 'chak!' choruses repetitively.
The prelude opens the five episodes taken from the Ramayana epic, as dancers in elaborate costumes artistically re-enact the tale with slower or faster tempos provided by the troupe complementing a scene of romance or suspense.
The Kecak Dance in Uluwatu Temple synopsis goes that Sri Rama, the prince of the Ayodya kingdom was sent into exile by his father King Dasaratha following an evil trick by his stepmother Kaikeyi.
Deep in a monkey forest (which fits in perfectly with Uluwatu's setting), Rama is accompanied by his wife Sita and loyal younger brother Laksamana. The evil Rahwana, who had a crush on Sita, knew of this, and set out to kidnap her.
The rescuing effort by the two brothers ensues with help from the monkey king Hanoman and his monkey troops. Rahwana eventually subdued, the two lovers are finally reunited right after the setting sun.
The fire torches in the stage's centre flicker against the darkened sky and the echoing chants subside.
Tickets or entrance fee of Kecak Dance is Uluwatu is IDR 100,000 per person can be purchased in advance, and arriving early is advised, and the stage has limit space or seating.
We recommend getting to the stage early before 5 PM to get the best seats. You can then watch the fire dance with a stunning backdrop of the sunset.
3. Taman Ayun Temple
Entrance fee of IDR 10,000 for domestic tourists and IDR 20,000 for foreigners.
Pura Taman Ayun is a magnificent family temple of Mengwi empire. This is one of the most visited temple in Bali, both local and foreign tourists.
It's located in Mengwi Village, Mengwi sub district, Badung regency and about 18 Km north side of Denpasar town. It is strategically located beside of major roadway between Denpasar to Singaraja.
Taman Ayun Temple is also one of six royal temples in Bali making it very important both spiritually and historically. The temple's name Taman Ayun translates to the 'Garden Temple in the Water'.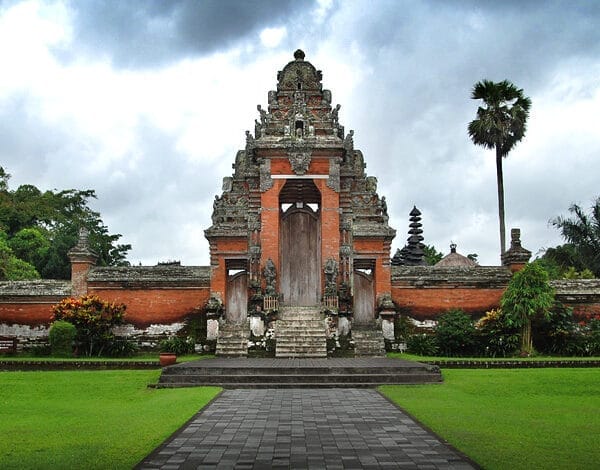 Open for public daily from 09.00 AM to 05:00 PM. Except Nyepi day in Bali.
Dress should wear
Visitors must ensure that they wear a sarong to cover knees and ankles. Also make sure that shoulders and midriffs are covered.
The Balinese are more than happy to welcome you to visit their temples, but you need to remember that temples are holy places, so there are some rules you need to be aware of before visiting a temple in Bali.
Don't take photos directly in front of worshippers.
Don't Step Over or Tread on Offerings – Small offerings called canang sari are often left on the ground.
Don't enter any temple if you're menstruating. This may be galling to any woman, but you have a whole island's culture against you on this one. Any woman on her period, or anyone (regardless of gender) with a running sore or bleeding wound for that matter, is considered impure and not to be allowed into any Balinese temple.
As long as you remember that the temple you are in is a space of reverence to the Balinese people, and treat it as such, your temple visit is sure to bring you the happiness and enlightenment you seek.
4. Tegalalang Rice Terrace
is an agricultural icon on the cliffs of Tegalalang Village north of Ubud. It's a very popular tourist hotspot in Bali and a must-see in many Bali itineraries.
Entrance fee of 15,000 IDR per person, and 5,000 IDR for parking.
The ticket can be bought at the ticket counter which located in the main street just before the rice terraces viewpoint.
And the payment should be cash in Indonesian Rupiah (IDR), so please prepare small cash before you come here.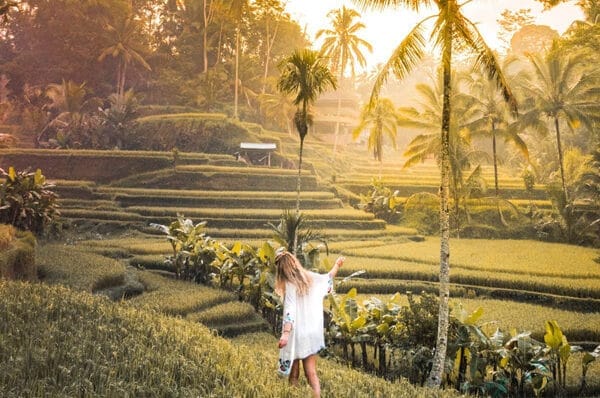 Best Time To Visit
To see the rice terrace at their greenest visit in March, April, September or October as this is when the rice is about to be harvested.
Between April and September the fields have more of a yellow tint, but are by no means less beautiful.
5. Tirta Empul Temple
6. Ulun Danu Temple
7. Tirta Gangga Water Palace
8. Kuta Beach
9. Kelingking Beach
10. Diamond Beach